AllSync IQ Master Clock Controller
Remotely manage all your equipment from the convenience of your computer and control major brand systems with the AllSync IQ Wired Master Clock. It's the perfect replacement for a failing master clock and works with your existing secondary clocks. The AllSync IQ Wired Master Clock provides synchronized control of secondary clocks, bell signals and electrical circuits. Programming up to 99 schedules and 9,999 events is easy with the 16-button keypad or Remote Connect web interface. You'll never need to adjust for time changes, because the AllSync IQ Wired Master Clock automatically adjusts for Daylight Saving Time and Leap Year. Plus, the battery backup keeps time without external power and retains programmed data.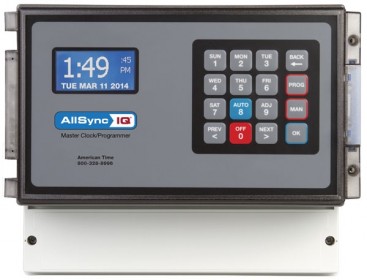 Features
Features:
5 Year Warranty

UL Listed

Internal clock accuracy of ±1 minute per year

Ethernet Time Synchronization

Automatic Daylight Saving Time & Leap Year correction

Control of up to 6 signal circuits

100% FCC compliant

Field upgrades via USB flash drive
Specification
Specification:
Input voltage: 120vac, 50/60 Hz

Peak input power: 10 watts

Nominal power: 5 watts

Fuse (input power): 2.5 amps, 250vac, through hole (0.335 Diameter x 0.315" L)

Standby timekeeping: 10 years

Memory/Time backup: CR2032 lithium battery, 240 mAh capacity

Timekeeping accuracy: ±1 minute/year without correction from Ethernet time reference

Program retention: Unlimited

Programmable events: 9,999 events total

Schedules: 99 maximum

Signal duration: Programmable 1-9 seconds or continuous On

UL Listed: File #E157522

Optional clock circuits (1): Dry contacts rated at 250vac, 8 amps resistive, 5 amps inductive

Clock circuit fuses (2): 8 amps, 250vac, subminiature

Optional signal circuits (6): Dry contacts rated at 250vac, Continuous: 7.5 amps resistive, 5 amps inductive

Physical dimensions: 61/2"h x 11"w x 81/2"d

Temperature range: 32˚-140˚F (0˚-60˚C)

Mounting: Wall mount or rack mount (with rack mount bracket H002944)

Communication: Ethernet

Shipping weight: 4 lbs.

Display: 128 x 64 graphics LCD

Keypad: 16 button tactile feedback membrane switch
Contact us to learn more
Fill out the form below and a sales rep will contact you to answer your questions.
---