Analog PoE Wall Clocks
Powered by your network. Synchronized time has never been so simple. OnTime® Analog Clocks provide accurate, synchronized time throughout a facility in a sleek analog format. Visible at over 100 feet, these clocks keep everyone on the same schedule. OnTime® clocks utilize cutting-edge Power over Ethernet (PoE) technology, a superior power source for clocks because it eliminates the need for AC receptacles, individual batteries and allows for centralized UPS backup. The clocks plug directly into a standard Ethernet jack and draw both time updates and power from the network. No AC outlets are needed – eliminating cost and complexity from system deployment. Since PoE devices consume significantly less power than AC powered devices, they are widely regarded as energy efficient and environmentally-friendly.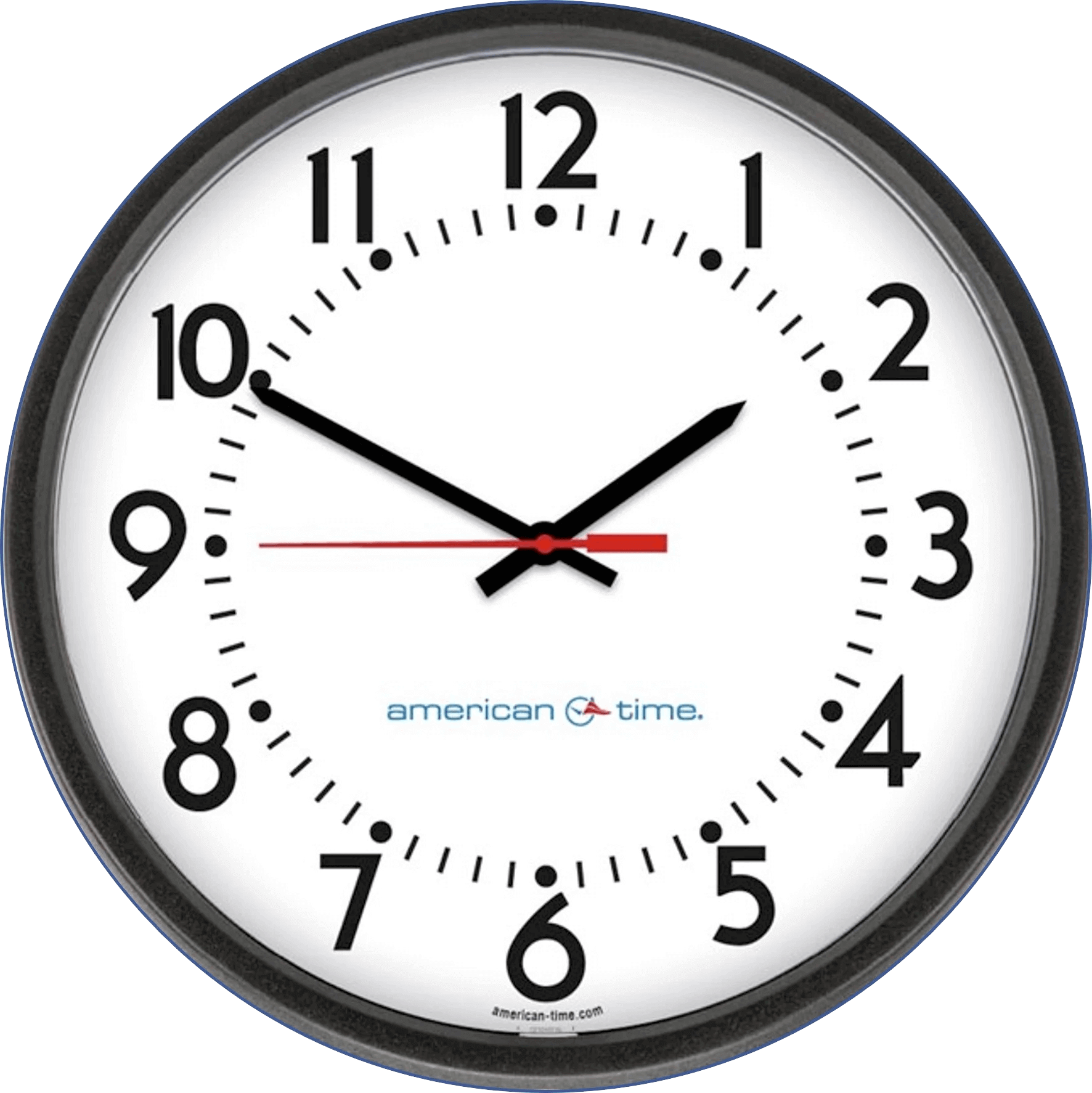 Features
Features:
Large format clock face, visible over 100 feet
Single- and double-sided models available
Highly accurate, +/- approximately 0.5 seconds
Set automatically by SNTP (Simple Network Time Protocol)
10/100BaseT Ethernet compatible
DHCP or static IP addressable
Power over Ethernet (IEEE 802.3af) using the same network components as IP telephones
Low power consumption, 3 watts
No master clock or serial connection required
UL 1950, ETL Listed, CE Marked
OnTime clocks are also available in 4-digit ethernet clock and 6-digit LED clock models
Optional protective wire guards can be purchased separately
Telnet control for: IP Configuration, SNTP server address, Time Zone offset from UTC, Daylight savings time, Status Reporting
Easily up-load firmware upgrades
2 Year Warranty
Specification
Specification:
Dimensions: 13.4'' diameter x 2'' deep
Viewing Distance: 100+ feet
Accuracy: +/- approximately 0.5 seconds
Operating Temperature: 32ºto 104º F (Oº to 40ºC)
Operating Humidity: 95% maximum, non-condensing
Power Consumption: 3 watts
Cabinet: Plastic
Mounting Options: Surface, Double-sided
Weight: 2 lbs
CERTIFICATIONS: UL/CSA 60950-1, ROHS COMPLIANT, CE MARKED, ETL LISTED
Contact us to learn more
Fill out the form below and a sales rep will contact you to answer your questions.
---